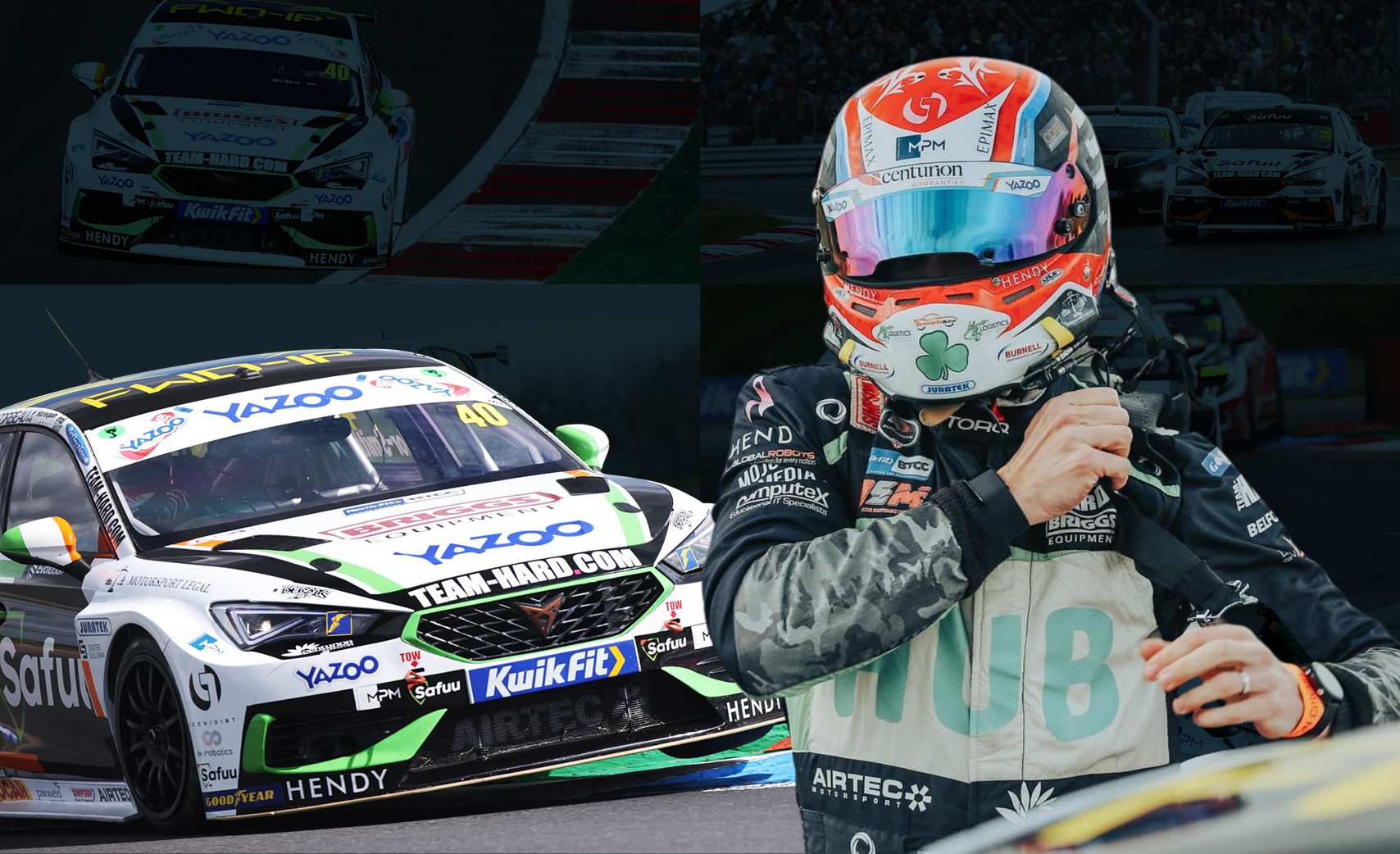 We had a great time catching up with Árón Taylor-Smith this week, the Irish BTCC driver and multi-race winner HBC is supporting this 2022 season.
This is our first big sponsorship for HBC Logistics, so this is an exciting new adventure for us. We've had so much fun watching and supporting Árón during the first few race weekends, some of our team even had the brilliant opportunity to attend a Media Day and Race Weekend to check out the mayhem for ourselves! It's been truly brilliant to see the racers, their team and fans thrive, we're rightfully proud to be a part of it alongside Taylor-Smith. 
Therefore, this time we have decided to include our own fun for this week's race action at Oulton Park. Megan and Ben have really enjoyed getting to know Árón on a personal level since the launch of our partnership earlier this year, so we decided to have a little Q&A with him to find out the latest on how he's getting on in the 2022 BTCC season. 
Oulton Park is where you won your second ever BTCC race. How does it make you feel to be back? It must bring up some memories!
"Going back to Oulton is a track I absolutely love. It is a real driver circuit, you know? The barriers are very close, but I think that just adds to the excitement of it. It's a highlight of the BTCC calendar – it's always for whatever reason, gloriously sunny, the spectators are out in their thousands and it's one of those tracks that you just absolutely love. As you tipped on, I won my second ever race there which is a really good memory as it was the first win for my former team. I get along really well with the track so fingers crossed we go there with the momentum on our side after picking up some areas and pace at the last round at Thruxton, so I think we can hopefully go there and fight to the front."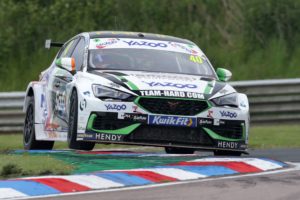 I love the optimism and we're really excited to see how it goes. Let's rewind a bit, shall we? When did you realise you wanted to be a racer for the BTCC?
"That's a really good question. So for myself, I grew up only ever wanting to race in the British Touring Cars. It is a championship like no other in my opinion. It is fiercely competitive with the best touring cars in the world. So even when I began go-karting at the young age of 13, my eyes were always on the British Touring Cars. I never had any aspirations to go down single-seaters… Well obviously I respect what the likes of Formula 1 drivers can achieve, it was just something that just didn't appeal to me. I love the action of what the Touring Cars can offer and it's always close combat racing, no matter if you're racing for a win, tenth, twentieth, even thirtieth position, it is always inch-for-inch racing, and I think that's what makes it a championship like no other."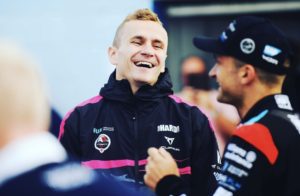 I think that's so inspiring… To be so passionate about a sport that it's the only path you aspire to take, and you've done it so well done you!

 
You've just competed in your most recent race weekend at Europe's fastest circuit, Thruxton, where you finished in a point-earning 13th position. It seemed you had an extremely productive weekend that perhaps was shadowed by your end result. What was the main lesson you would say you learnt at your last race weekend and how will you utilise it at Oulton Park?
"Thruxton offered up a load of lessons for the team as a whole. You know, I think we may have somewhat overlooked the effects of the hard tyre on the chassis with the extra weight of the hybrid kit. However, I felt by race three we had ironed out a lot of those little issues and got the chassis to work a lot better than it has at any other point this season. 
So with that in mind, I know I'll go to Oulton with a chassis that's improved, but more importantly, a team that has now gelled. I think Thruxton is what I would call a turning point, you know, I saw my car crew and my whole team working together like I've never seen before. I always say that motorsport is a 'team sport', and when a team is in unison with one another, that's when success comes, and Thruxton was the first time I've really seen it from being with Team HARD for the last 18 months. So now I know that success is almost inevitable when you have that team on your side so I'd say that would be my biggest takeaway – what the momentum meant to the morale of the team and the crew within my car."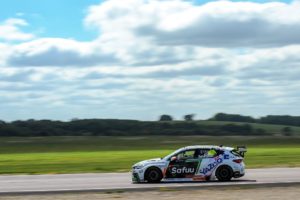 Amazing. Speaking on my own behalf who didn't know much about motorsport before this sponsorship, you do realise from an outsider looking in how much teamwork is involved. It's not just a case of engineer and racer, you can truly tell how much your team believes in you and how hard they work every race weekend to help you perform your best when you're on the track. It's great to see!
Let's get a little more personal! What's your favourite track to race and why?
"Ha ha I feel I always judge tracks based on local amenities, so if there are nice hotels, nice restaurants for dinner, that type of stuff! With that in mind, I would say Oulton is quite up there. I have my favourite restaurant to go to every single time we go there, and my favourite hotel! 
But it's always hard to say, you know, I love Oulton, I love Thruxton… It's almost easier to say what's my least favourite, and weirdly, I'd probably say Silverstone. Mainly because there are only three corners there at that track so it's not the most exciting to test at but it's certainly fun to race at! 
I've kind of done this long enough now to have almost had success at pretty much every track, whether it be winning or on the podium, so I don't really have any tracks that I find difficult but I have fonder memories of the ones I have won at – so Brands, Outline, Snetterton, those types of circuits seem to play to my strengths."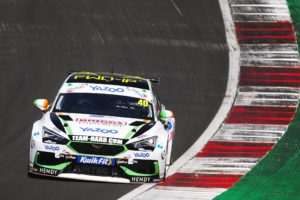 Love it thank you for such a detailed answer! I feel the exact same when going on holiday ha ha! How about the other racers – What other racer in the championship do you enjoy racing alongside?
"I have to say the depth of the field and the quality within the championship makes it brilliant to race in, regardless of who you're up against. I think I'd have to say the likes of Jason Plato, he's probably one of my favourites. I think over the years we've had run-ins and we've probably not seen eye-to-eye on certain points but in recent seasons it seems to have subsided, and I feel like he's one of those drivers that I know; if you give him an inch, he will always give you an inch. Whereas if you don't give him an inch, he won't give you an inch! So I kind of like to say the same about myself as I will treat everyone the way I would like to be treated and I try to be as fair as possible. 
I know mistakes happen and people can run into the back of you here and there but I always say there is a difference between a mistake as opposed to intentional contact, and when there is intentional contact it boils my blood a little bit, and my Irish fiery nature will come out!
But I feel like the in last few years, there has been a lot more respect shown in the championship because I've earned my stripes and I think, just like the rest of the racers, I deserve a place on the grid. So yeah I probably enjoy racing against Jason Plato the most just because I grew up watching him, and it's always nice to get one over on one of your formal idols."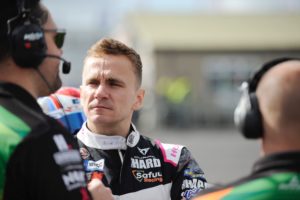 It's good to see the competitive nature has changed over the years, I bet it makes racing a lot more enjoyable. Jason Plato was a racer we've liked to watch this year, especially when you went neck and neck with him at Donington Park!
I know a lot of professional sportsman and racers have some sort of superstitious, pre-action ritual that they have to complete before it all begins. We wanted to know do you have any pre-race rituals for the race weekends?
"It's funny… I guess I do and I don't. I try to not be superstitious, so I don't have lucky boxers or a lucky set of gloves or anything like that because my philosophy on that is you can easily lose them, and if you lose them, you're up sh*ts creek! 
But I definitely have rituals so one of the key essential purchases for our truck is a coffee machine so I'll always have a cup of coffee before I go out in my car. Also, about half an hour before it all begins I like to cut myself off from the outside world. So I wouldn't really call it a 'blackout period' but in some regards, it means that I can watch my onboard footage, retrack notes, speak to the engineers, and just kind of go inside myself to maximise my performance. 
I guess that's a ritual, and I'm okay to have rituals but I don't have superstitions rituals. I have what I would call performance-enhancing ones. That would be how I get ready for a race."
Very reasonable rituals! Thank you so much for taking the time to answer these questions, Aron.
We can't wait to see the race weekend kick off at Oulton Park today!