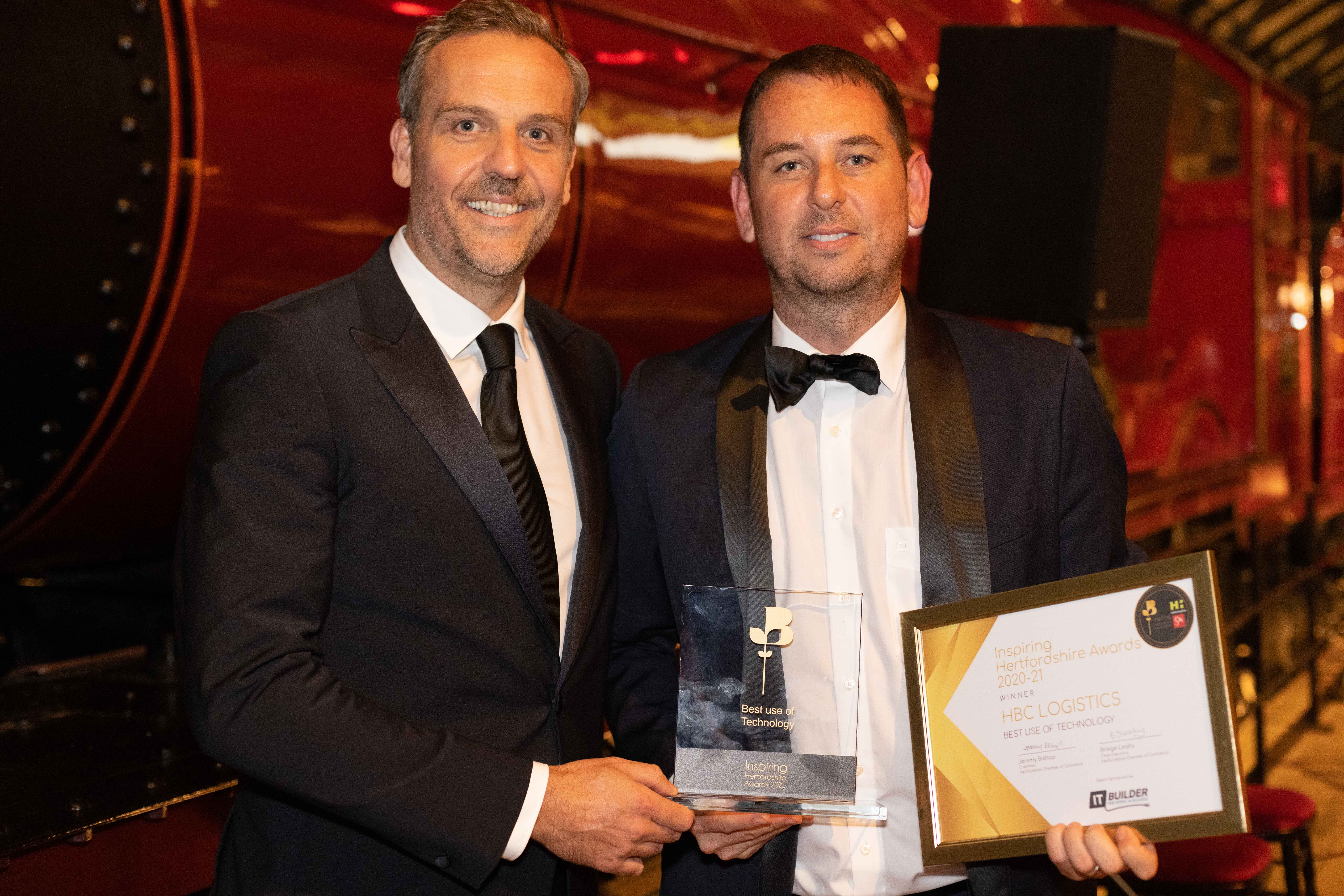 Logistics company scoops Best Use of Technology award at 'magical' Chamber of Commerce ceremony
A logistics company is celebrating after picking up a top accolade at Hertfordshire Chamber of Commerce's business awards ceremony.
HBC Logistics, based in Letchworth, won the Best Use of Technology category at the 10th Inspiring Hertfordshire Awards, which took place this year at Warner Bros. Studios in Leavesden – the home of Harry Potter.
Held to celebrate the achievements and contribution of the county's businesses and charitable organisations, the glittering awards ceremony celebrated the winners of 21 categories, which included Family Business of the Year, Most Promising New Business, The Green Award and Entrepreneur of the Year.
Ben Weldon, from HBC Logistics, said: " We were lucky enough to be nominated 4 times during the evening, but this is the one that was close to my heart and deep down I wanted to win so I was extremely pleased when our name was read out! We have invested heavily in our technology over the last 3 years and continue to do, so much so we are now re-selling our tech to other transport companies across the UK. I would like to take the opportunity to thank all the staff at HBC Logistics & SmartLM for the hard work over the last few years, but I would like to make a special mention to our head of development Daniel who has been a fantastic asset to us and he is the guy that makes all of this tech work behind the scenes, Daniel thank you. I would also like to thank Josh Hagger for his input into this project and HBC as a whole. And finally my two partners Dave Northfield & Steve Ketteridge, their experience has been invaluable in making all this come together like it has."
Briege Leahy, CEO of Hertfordshire Chamber of Commerce, said: "Local businesses, large and small, are at the heart of the growth of our county and our annual awards ceremony is an opportunity to recognise business leaders' hard work, innovation and contribution to Hertfordshire.
"HBC Logistics set an incredible target for a three-year-old business, but very clear and achievable objectives to support growth that span various business operations. Investment to develop bespoke fully-integrated platforms is not that common with cloud computing, so this is very impressive, along with all the statistics that supported its entry."
Accolades were handed out to companies of varying sizes, while the challenges faced by the business community over the last year were recognised with the Hertfordshire Heroes awards. These were given to a business, an individual or a charity which went above and beyond during the pandemic.
The ceremony, which took place on September 9th, was attended by a number of local dignitaries, including the Lord-Lieutenant of Hertfordshire, Robert Voss CBE CStJ, the Mayor of Watford, the Leader of Hertfordshire County Council and prominent business leaders.
Hertfordshire Chamber of Commerce, recently named the fastest growing Chamber in the UK by the British Chambers of Commerce (BCC), has continued to support its members as businesses navigated the challenges posed by the pandemic.
For more information about HBC Logistics contact Ben Weldon, Director. Ben@hbclogistics.co.uk 01462 410004