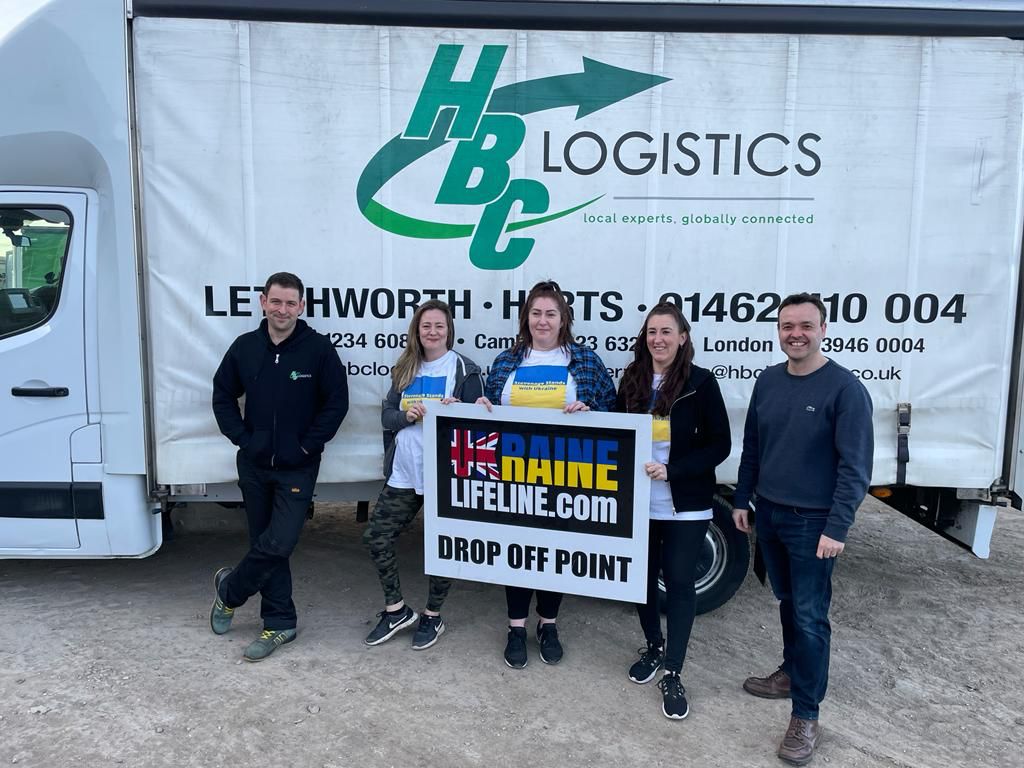 If you regularly follow us, you will know that we love to work with our friends down the road at Stevenage Football Club from time to time. On the 12th March 2022, we carried out a very special job helping the club to transport the donations they have collected to the Ukraine Lifeline depot in Ely.
The Ukraine Lifeline is a charity organisation that was created to collect and transport essential goods from the UK to the borders of Ukraine, to provide the civilians of the country with everyday essentials they no longer have access to. It's been truly devastating to see the current events going on, and we wanted to help wherever we could.
Stevenage F.C got involved with the help from "Stevenage Stands with Ukraine", the public Facebook group set up by three local mums partnering up with the Ukraine Lifeline. The group now comprises 1.7k members, including us at HBC Logistics, and is used to coordinate all large scale collections in and around Stevenage as well as communicate with members on donation needs and depot updates. 
So, Stevenage Football Club asked if fans and the local community can donate any goods that can aid the people of Ukraine and the military. They were overwhelmed with donations from all across the region but didn't have the correct transportation to deliver the goods almost fifty miles away safely and sustainably. 
That's where HBC Logistics came in.
One of our drivers, Shane, took one of our vans to the collection point, helped load the goods and delivered them to the depot in Ely, all in a day's work! 
"Just wanted to say a big thank you to HBC Logistics for sending over the van. We packed it to the top and sent it to the depot! Shane the driver was fantastic and got stuck in!" Said Stevenage Football Club.
The Ukraine Lifeline relies heavily on support from local businesses and the community so they can conduct these operations. Without these donations, vans and volunteers, they couldn't possibly run!
It's an incredible cause we were grateful to get involved in. Well done to everyone involved from the Ukraine Lifeline team to all of the couriers and haulage companies getting involved. 
So, how can you help? It's incredibly devastating to see what's happening in Ukraine right now, we wanted to assist where we could, and now you can too. You can join the "Stevenage Stands With Ukraine" Facebook group and donate anything you can to their collection points.
The Ukraine Lifeline remains in close contact with the Ukrainian Embassy, who deals with charitable organisations like these across Europe to detail what we as a country can donate and transport there. There are a number of countries currently doing what they can to support Ukraine, so the Embassy has allocated individual criteria of things the countries can donate, in terms of distance, freight rules and urgency. 
The list Ukraine Lifeline has been given includes:
– Medical first aid: tablets, savlon, electrolytes, first aid bag, essential medicines such as paracetamol and ibuprofen
Children essentials:

 

nappies, baby food, food pouches, toys, bottles, steriliser tablets
Food hydration items such as bottled water and tinned foods
Military: torches, batteries, pop up tents, blankets, pillows, camping equipment.
Speaking to Natalie Martin, Admin and founder of Stevenage Stands with Ukraine, Natalie was so grateful for HBC's generosity in collecting and delivering the donations to the depot, "We couldn't of done it without you guys". Future plans for the group includes getting involved in the Homes for Ukraine scheme for Stevenage and local areas.
We wish them the absolute best for the future.