Please use the online quote tool below for instant credit card transactions, but if you already have an account with HBC please contact the team who will apply your preferential rates.
If you would like to open an account please contact the team on 01462 410004 or serviceteam@hbclogistics.co.uk.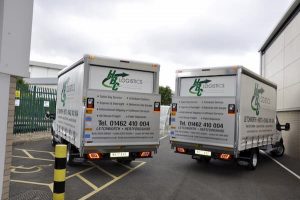 HBC Logistics offer a fast, reliable urgent same day courier for our customers based in the Luton area. We receive many queries from people who need a same day courier in Luton and can arrange collection of your item within 60 minutes, with a dedicated courier to take it safely to its destination.
We understand that your business depends on us delivering your items, so we offer an efficient, trustworthy service that's tailored to your specific needs. HBC Logistics operate 24/7, so even if it's the weekend, late at night, or a time when other businesses are shut, we're here to help by making our same day courier Luton service accessible at all times.
How much does a same day courier in Luton cost?
If you need a courier service in Luton, you'll notice that same day deliveries are often very pricey. However, at HBC Logistics, we try to keep our prices as affordable as possible, whether it's for a same day, next day or scheduled delivery, so you can keep your costs low. We have many years' experience in logistics, which allows us to find the most affordable ways to get your package to its destination.
How can I book a collection and delivery?
We've tried to make the process of booking your same day delivery service in Luton as simple as possible, so you don't feel stressed or overwhelmed by the experience.
When you need a same day courier in Luton, simply click 'get a quote' to be taken to our quotations page. Here, you can put in the collection address, delivery address and other information about the package to generate a quick quote for your delivery. Then, all you need to do is decide whether to accept our quote.
If you decide to go ahead, you just need to pack your item and wait for us to collect it. We can usually collect within Luton within the hour, and from then on, you can relax knowing that the courier is on their way. You can track your parcel on our website and get proof of delivery, so you can be sure everything is going smoothly.
Where do your same day couriers in Luton deliver to?
When we pick up packages in Luton, they're often being sent across Bedfordshire, Hertfordshire and London, although we can offer our same day service anywhere in the UK including Birmingham, Glasgow, Cardiff, Edinburgh, Manchester and Liverpool, so you can be sure we'll get your package where it needs to go.
Many deliveries are local, with popular destinations from Luton including Welwyn Garden City, Watford, St. Albans, Radlett, Leighton Buzzard, Kings Langley, Hatfield, Elstree, Dunstable, Borehamwood, Bushey and other towns. But no matter how long or short the distance, you can be sure we'll deliver on time.
While we don't offer our same day service outside the UK, HBC Logistics do offer an international delivery service. We can often deliver faster than the Royal Mail and can offer services such as tracked deliveries across Europe and air deliveries, meaning you may be surprised how quickly we can get your item to its destination across the globe. Luton is a multicultural area, and we're often asked to deliver items from the city to destinations the world over, so our team are very good at arranging international deliveries, even to remote areas.
Why do businesses use same day courier companies?
There are many reasons why people contact us about same day courier services. There's a huge amount of competition in the business world, and many companies have to offer delivery in a short window or risk losing customers. Luton is home to a number of businesses, from small, one person operations to global head offices, all of who need last-minute deliveries at some point. That's why HBC Logistics are a popular choice in the area, as these companies know that when you schedule a delivery with us, it'll turn up when we say it will and will be delivered by our couriers, not send to a third party.
What items can I send?
HBC Logistics can deliver all sorts of items, and we have a fleet of large and small vans to suit your needs. Customers looking for same day courier services in Luton often want to send single items, small packages or documents, which we're happy to handle, but we can deal with bigger loads or unusual items too. We've delivered a diverse range of items over the years, so if you're unsure about what you're sending, you simply need to pick up the phone and we'll be happy to help.
Where can you pick up from?
We cover locations all over the UK including areas in and around Luton. From the moment you place the order with us our local same day courier in Luton will be sent to the pick up location to collect your package.
Here are some of the local areas we cover:
Barnfield, Bramingham, Bushmead, Challney, Crawley Green, Dallow, Farley Hill, Hart Hill, Hockwell Ring, Leagrave, Lewsey, Maidenhall, Napier Park, Putteridge, Round Green, Skimpot, Stopsley, Tophill, Vauxhall Park, Wigmore
Why should I choose HBC Logistics?
When you're searching for a same day courier in Luton, you'll find plenty of companies out there who promise an efficient service, but HBC Logistics have many years of experience and excellent reviews to back us up.
Our team offer the highest standards of customer service, from the moment you get in touch for a quote. We're available 24 hours a day to meet the demands of modern businesses, and we offer competitive pricing, whether you book us for a same day courier in Luton or a scheduled delivery.
When you need a same day courier in Luton, simply get in touch with HBC Logistics and we'll offer you a fast service at a competitive price. Call our team on 01234608404, e-mail us at serviceteam@hbclogistics.co.uk, or fill in our contact form to get a quote for our same day courier Luton service.